Purchase orders made simple
Looking to make reordering inventory a breeze? Our easy-to-use system allows you to effortlessly view which items need to be replenished and create purchase orders in just a few clicks.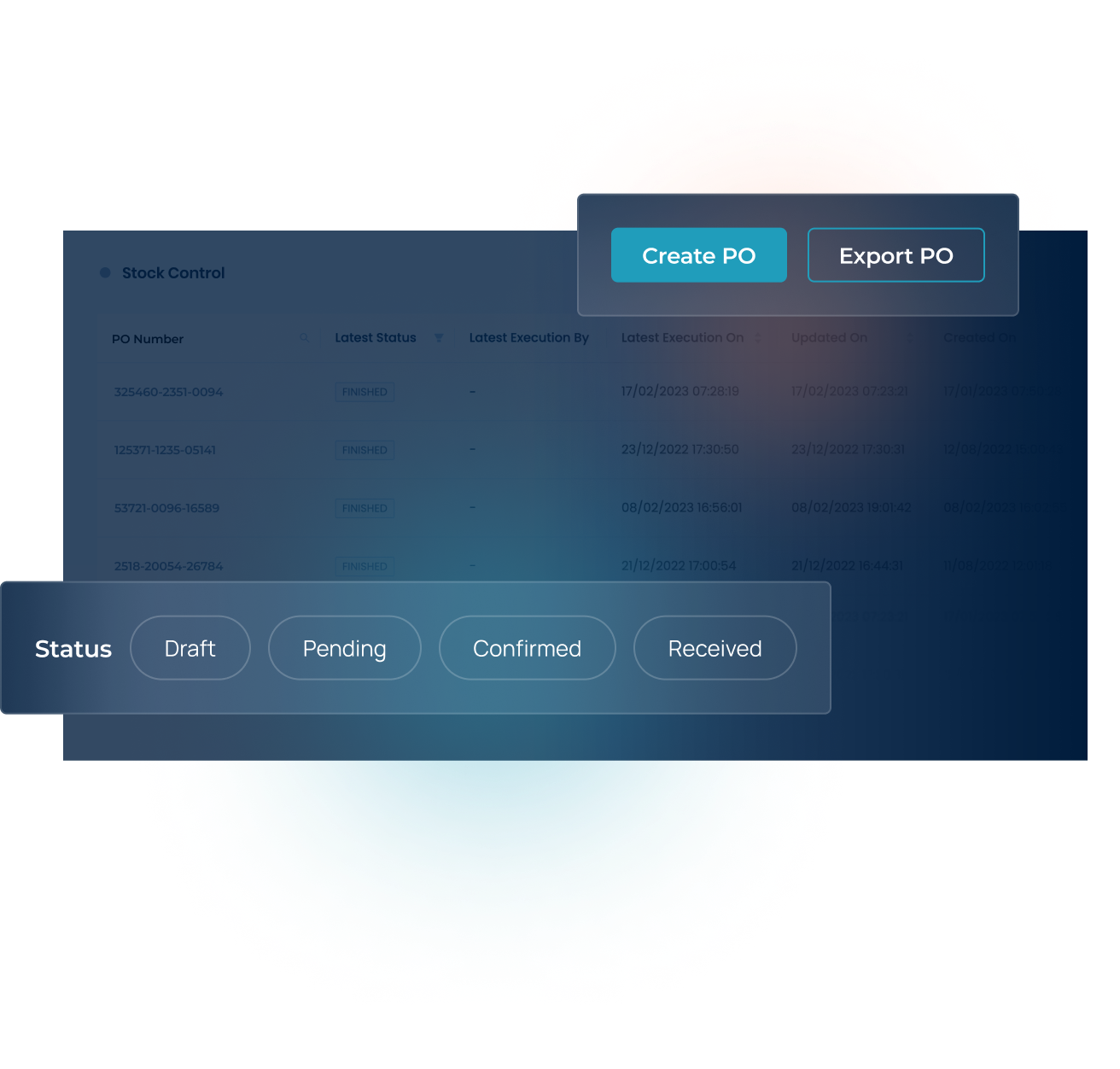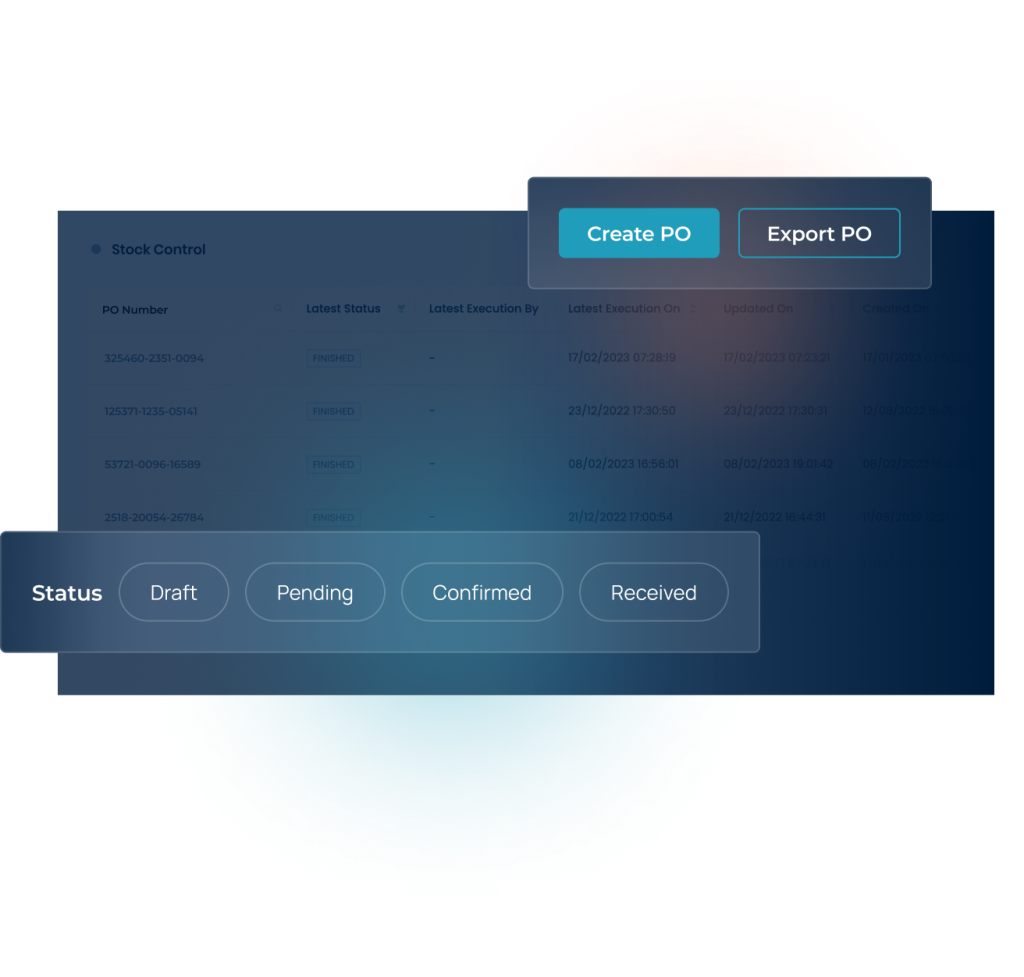 Benefits
Improved visibility and control
With Noverstock's purchase order module, businesses can track the status of each purchase order, monitor inventory levels, and ensure that budgets are not exceeded. This can provide better visibility and control over the procurement process.
Cost savings
Streamlining the procurement process offers significant benefits for businesses, including cost reduction, error mitigation, and improved supplier negotiations. By optimising the procurement workflow, businesses can achieve greater efficiency and drive financial savings.
Data driven restock decisions
Noverstock's reporting module takes data-driven decision-making to the next level. By harnessing the power of data analytics, businesses can utilise historical sales data, inventory levels, and other key metrics to make informed decisions regarding purchase orders.
Compliance and audit readiness
Noverstock plays a crucial role in helping businesses maintain compliance with procurement policies and regulations while preparing for audits. By utilising Noverstock's comprehensive features, businesses can ensure transparency and accountability in their procurement processes.
Increased efficiency and productivity
Implementing a purchase order module offers numerous benefits for businesses, including significant time savings and improved productivity. By leveraging this module, businesses can streamline their procurement process by eliminating manual data entry.
Book your demo now!
Are you ready to elevate your e-commerce business to new heights? Don't miss out on the opportunity to book your personalised demo with us and unlock the full potential of our powerful platform.
View a demo of the Noverstock platform.
Manage all aspects of your retail business from a single centralized location.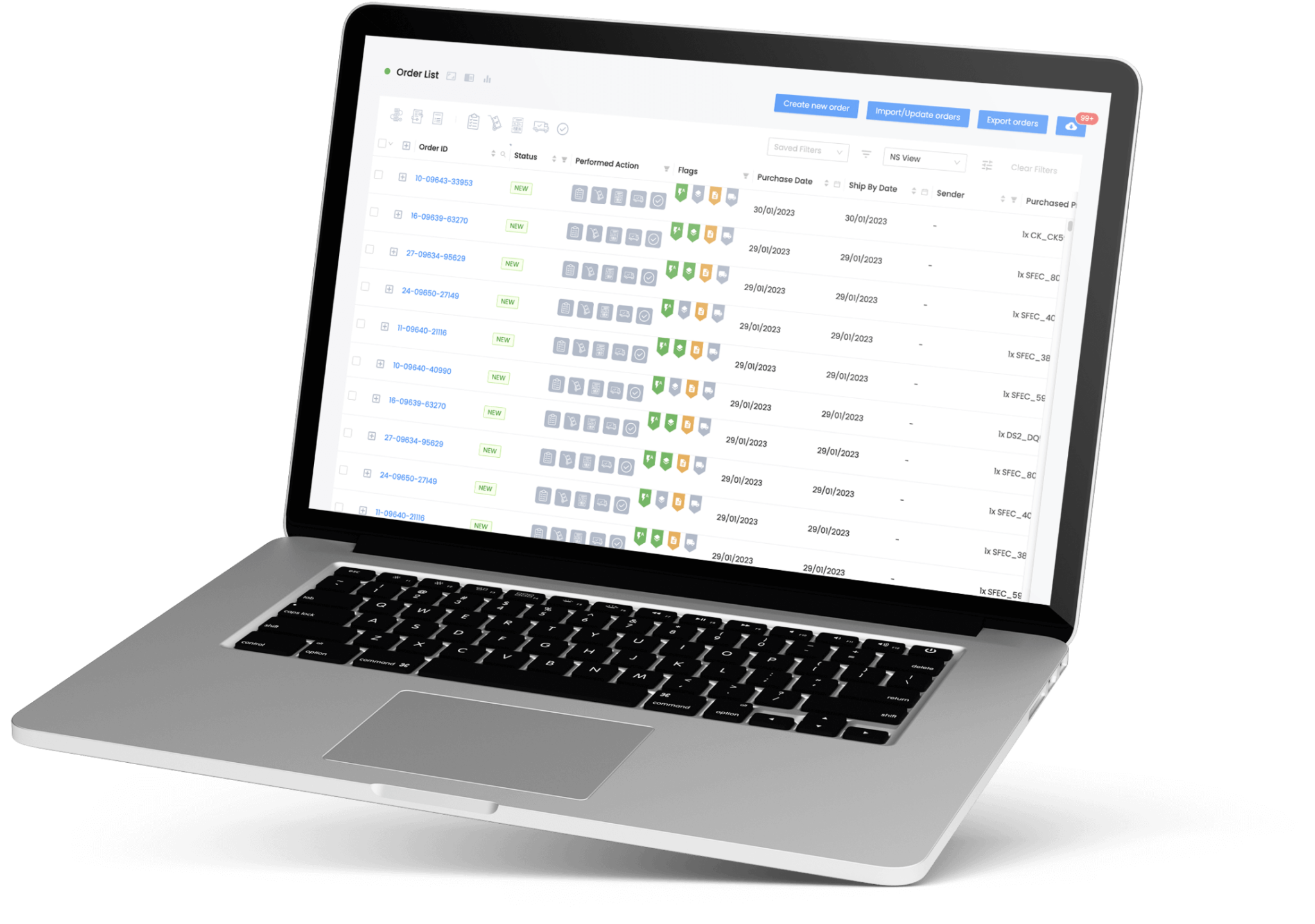 Use cases
Noverstock is a versatile platform that caters to a wide range of businesses and industries.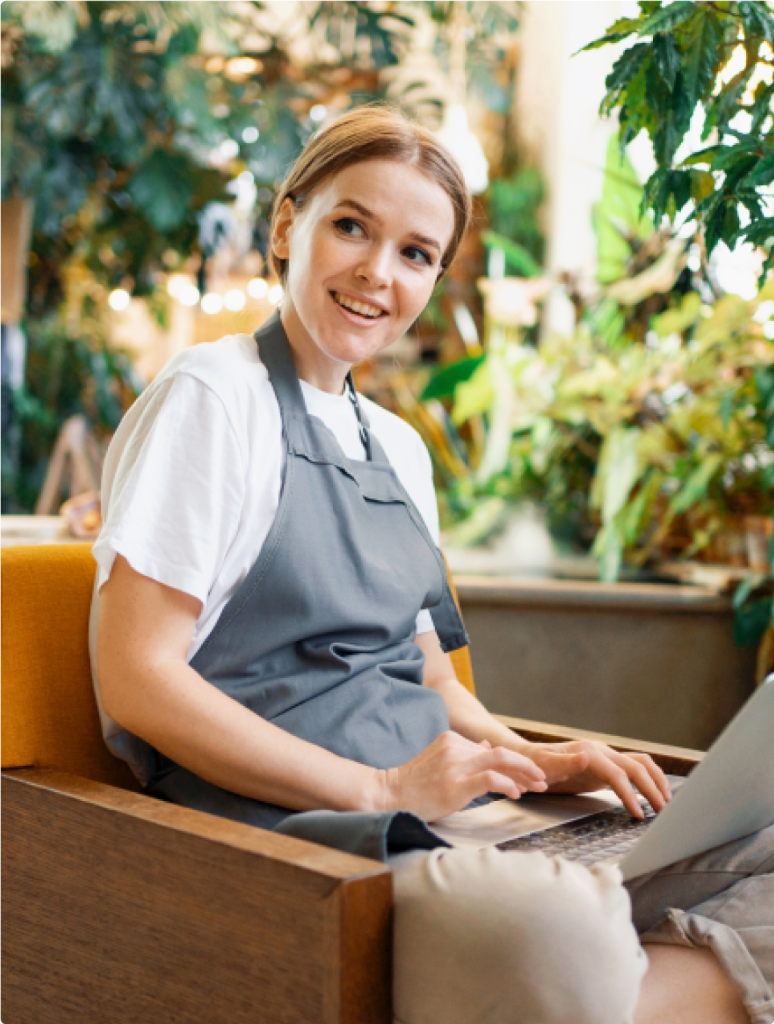 Simplified Purchase Order Generation
The Challenge: Many businesses struggle with time-consuming and manual methods of generating purchase orders. Juggling multiple systems and data entry can lead to inefficiencies and delays in the procurement workflow.
Noverstock sets itself apart by offering a simplified way to create purchase orders. Not only can you utilize our dedicated purchase order module, but you can also generate purchase orders directly from the orders or products module. This unique feature allows you to add products to purchase orders that are already being ordered or include items with low availability or high demand. With Noverstock, you can easily adjust and adapt purchase orders based on order or inventory data, ensuring a streamlined and effective procurement workflow.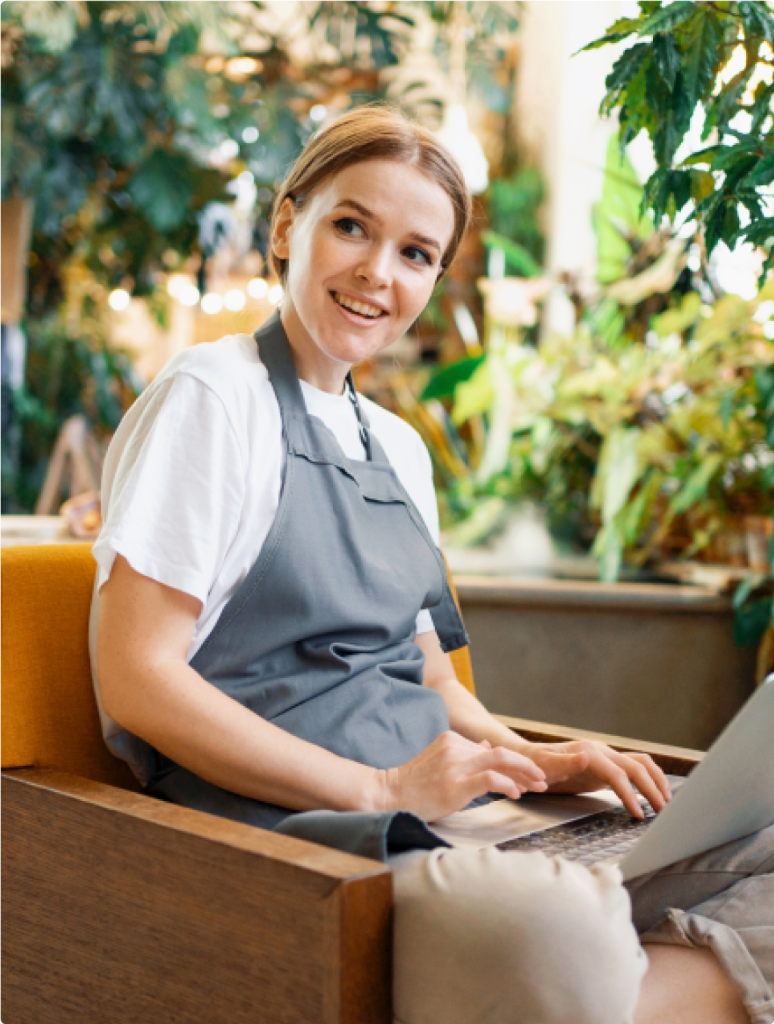 Receiving stock and assigning landing costs
The Challenge: Businesses often struggle with accurately tracking received stock and managing landing costs associated with products, leading to inventory discrepancies and pricing inconsistencies.
With Noverstock, you can streamline stock receiving processes and assign landing costs effortlessly. Our platform ensures accurate recording of received goods, providing real-time visibility into your inventory. Additionally, you can easily allocate landing costs to define precise delivery prices for each product, simplifying cost calculations and pricing strategies. This streamlined approach enhances business control, saving time and improving operational efficiency.
Q: What is Noverstock?
A: Noverstock is a cutting-edge e-commerce platform designed to empower online sellers and streamline their operations. With a comprehensive suite of tools and features, Noverstock simplifies inventory management, order processing, sales channel integration, pricing optimization, and data-driven insights for business growth.
Q: How can Noverstock benefit my e-commerce business?
A: Noverstock offers numerous benefits to enhance your e-commerce business. It centralizes your operations, allowing you to manage inventory, orders, and sales channels from a single platform. With features like automated order processing, real-time inventory tracking, and advanced analytics, Noverstock saves time, reduces errors, and enables data-driven decision-making for improved profitability.
Q: What is the Purchase module in Noverstock?
A: The Purchase module in Noverstock is a feature that enables users to manage the procurement process efficiently. It provides functionalities for creating and managing purchase orders, tracking supplier information, receiving stock, and reconciling inventory. The Purchase module streamlines the purchasing workflow, ensuring smooth operations and effective inventory management.
A: What is purchase order?
A purchase order (PO) is a commercial document issued by a buyer to a seller, indicating the details of a purchase transaction. It serves as an official request to the supplier for the delivery of specific products or services at agreed-upon prices and quantities. A purchase order typically includes information such as the buyer's and seller's details, item descriptions, quantities, prices, payment terms, delivery dates, and any other relevant terms and conditions. The purchase order acts as a legal contract between the buyer and the seller, ensuring clear communication and facilitating smooth procurement processes.
A: What are landing costs?
Landing costs are additional expenses incurred when importing goods from a foreign country. They include transportation, customs duties, taxes, handling fees, and insurance. By assigning landing costs to products, businesses can accurately calculate the total cost of imported goods and make informed decisions regarding pricing and profitability.
See Noverstock platform in action
Let's talk about all the features you need to run your business with Noverstock. Our platform is equipped with a comprehensive set of tools and solutions to empower you in every aspect of your e-commerce operations.